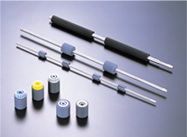 The characteristics of rubber include the conveying of motion smoothly and efficiency in absorbing impact.
These attributes are vital in increasing the safety and durability of industrial products as well as the ensuring of a quiet work environment.
Meiji Rubber & Chemical Co., Ltd. contributes products for various fields on the basis of"production by order".
We have distributed products from rollers that offer comfortable motion for elevators and escalators, electrical parts that enable stress free usage for copy machines and printers, and shock absorbing material for berthing ships.
Recently, we have started to manufacture the anti-vibration rubbers for"Windmills", 1 of the environmental plants.
Our products could be found at sea, in the city, and in the office.
We strive to contribute in all possible scenes, utilizing our rubber material technologies.
---

---

Anti-vibration products for the ministry of defense and general industrial machinery
Roller products for elevators, escalators, etc.
Large-scaled rollers for paper/iron manufacturing machines
Precision rollers and rubber products for OA/precision electronic products
Large-scaled anti-vibration "fenders" for harbor related products
---