"Composite hose"is the title placed on industrial hoses, strengthened by multiply layering plastic films, tubes, cloths, etc. and wound internally and externally with wires.
We contribute our hoses to various industries starting with hoses utilized in equipment to the chemical industry, to oil, steel, machining, food products, etc and cargo handling hoses to land transportation and marine transportation industries. Our unique compounding method has been highly valued in these fields.
We have also contributed to the launching of the rocket in Tanegashima Space Center, developed by the National Space Development Agency of Japan.
Each of our products are superior in its safety, durability, and chemical resistance and are capable of withstanding multiple bending.
Our product line, boasting their light weight and flexibility, are exceptional in terms of usability.
---

---

1. Excellent safety

Our hoses have excellent flexibility due to their composite structure (formed by dozens of layers) reinforced by internal and external spiral wire, being resistant to deformation caused by repeated bending and safe against collapse.
Internal and external toughness even against vacuum
Installation of terminal fittings is based on mechanical crimp contact and no adhesive materials containing endocrine-disrupting chemicals are used. This way, we improved reliability in terms of strength while caring about the environment. At the same time, we eliminated dissolution by solvents - which has been a problem in using adhesive materials - and also other issues such as rupture of adhesive materials during use due to vibration and penetration of impurities.
(*Registered patent no. 3556278)
Thorough measures against electrostatic discharge
Both terminals of internal and external wires constituting the hose are connected to fittings to ensure permanent electric conductivity, which is further refined by a perfect shielding structure.
(*Recommended by the National Institute of Industrial Safety, Ministry of Health, Labor, and Welfare)

2. High chemical resistance

The use of polypropylene (PP) as the main component and other special resins give our hoses resistance against most chemical substances, making them suitable for use with chemicals, unlike rubber or metal hoses.
The range of chemical resistance is wider compared with other types of hoses, and the constituent materials do not instill concerns of affecting the characteristics of the chemicals.

3. Excellent operability

We eliminated the problem of unevenness in the internal surface by introducing triangular wires for the first time in the world, greatly reducing pressure loss due to flow speed resistance. The problem of liquid disruption after cargo handling has been solved.(*Registered industrial new design no. 2546519)
The fitting and unfitting process is easy due to the excellent flexibility and the 20-40% lighter weight compared with rubber hoses.
Since the bending radius is only 1/3 compared to rubber hoses, pipe switching and operation in small areas is easy.
Unlike metal hoses, difficulties created by distortions caused repeated fitting and unfitting do not exist.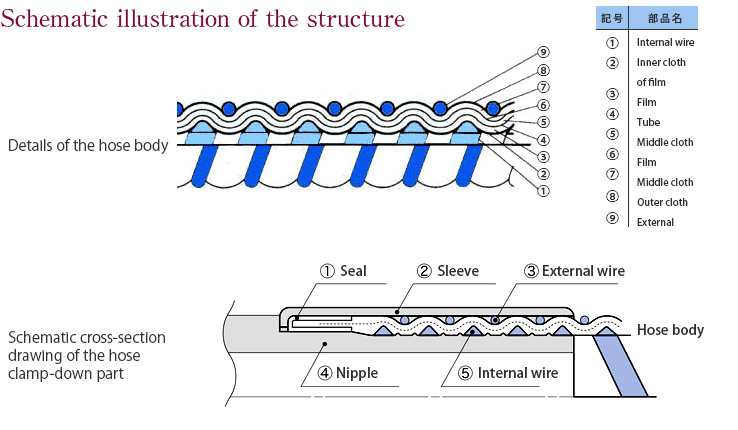 ---

Representative hose numbers are offered as series. Please refer to our separate catalogs in Chemical resistance table. Contact us for specific customer needs.

Catalogue - Chemical resistance table (PDF, 373KB)

Catalogue Synthesis Catalogue (PDF, 1.6MB)